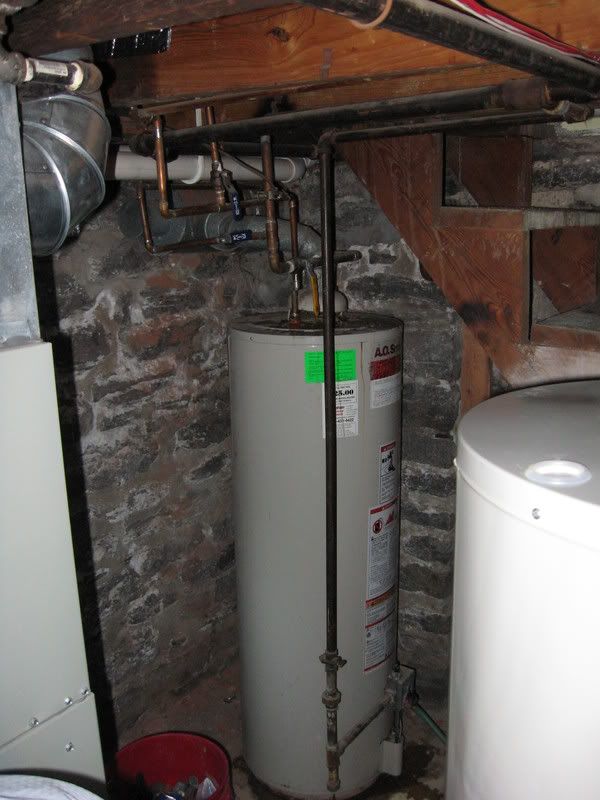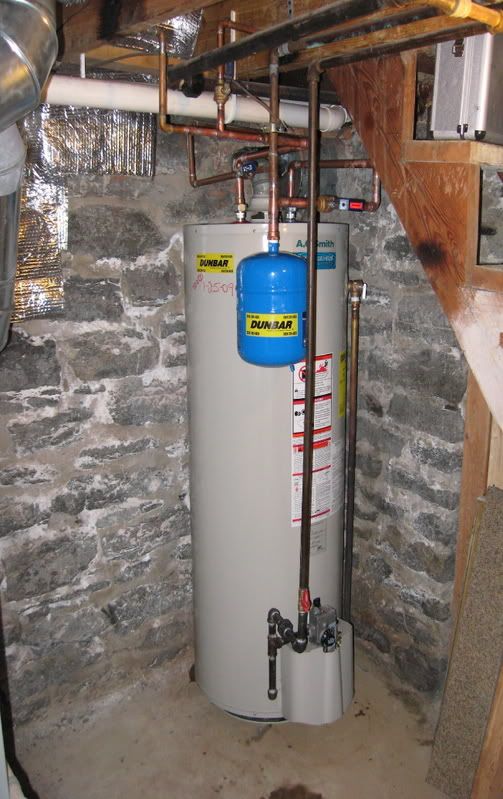 50 gallon A.O. Smith lasted 14 years with no problems, no maintenance whatsoever, high pressure *90+ pounds* the whole time.
He bought a 50 gallon Conservationist, a lot taller and we had to rework the double wall B vent config. Capped it, fabbed a 4 to 3" connector and made it work
I "should" of put that expansion tank between the tank and valve but this was a sunday call and this job SUCKED!!! Not one of those pipes were level or straight, did the best I could.
That heater is shimmed with granite sticks. The gas line is not crooked; don't know why it's like that in the second pic.
All I can say is I'm glad it's over with. Guy was a top dog salesman for Mercedes-Benz...he was even taller than me.
I'm 6'6" and the ceiling height was 6'. Horrible job and so glad it's over with. Upsold PRV/EXP tank and I have roughly $69 in materials in this job today.
The staircase down to this hole was 24" wide and you had to walk backwards down the steps. He had the new one down there but it took both of us to get the old one out. Comments, criticism, fire away! I got paid!
I had to seal that draft diverter hood temporarily to get that 30' of B vent up the side of house warmed up to draw. Once the pipe warmed it took off, sounded like a jet engine sucking the exhaust gases out of there. Draft gauge showed 800fpm's after we got it going.